In 1987, the now defunct Circle Gallery in Chicago threw a 75th birthday party for Chuck Jones – a black tie affair, celebrating a lifetime of achievements in animation. The two story space on the Magnificent Mile was filled with Jones' huge oil paintings of Bugs, Daffy and Pepé Le Pew – along with dozens of original and reproduced animation cels.
As a fourteen year old animation fan, I'd spent many hours at the local mall – passing the food court and Sharper Image… and heading straight for the downtown gallery's suburban mall branch. Somebody working there must've seen me come in from time to time, looking in amazement at the framed cels stretching down the long back wall; marveling over how that specific piece of plastic was part of Bambi, Snow White, or a Roadrunner short, albeit one twenty-fourth of a second.
I'm not randomly choosing names, either. We saw a crinkled, 50 year old production cell from Snow White. She's standing at the wishing well, blue bird perched on one finger, with a lush hand-painted watercolor forest as a background. I recall they were selling it for $7,000. Today that'd be a bargain – considering they washed and re-used almost every cell in those days, there are few artifacts that survive from that period in animation.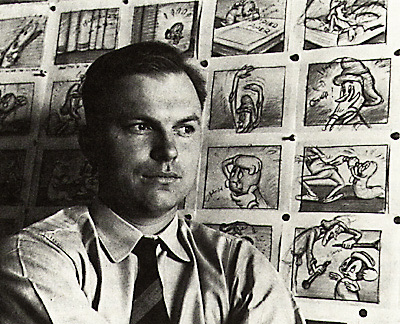 So somehow, I wound up with an invitation to meet Mr. Jones. Before I knew it the evening had arrived, and my parents were taking us all downtown. My brother, sisters and I wound up being the only kids in the entire place, and I'd prepared for this occasion by creating a homemade birthday card – an 18-inch long Bugs Bunny, with some long forgotten Bugs-type remark written inside. After waiting until there was a lull in conversation and he was briefly alone, I went up to him and handed him the large card.
He looked, and read the message inside. "This is great," he chuckled, then pointing to Bugs' waistline he added, "but I think ole' Bugs needs a good meal!"
Cloud nine, people. I didn't have any friends who liked animation enough to care about my brush with greatness, and of course there were no blogs to tell the world about it. But it's always been a very special memory. Not just that I attended Chuck Jones' 75th birthday party. But that I'd had the chance to give this talented, kind man a laugh. I now consider it my way of saying thanks for all the laughter and joy he'd given to me.
He's been gone eight years today, and a remarkable legacy of joy and silliness he left behind lives on.