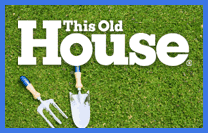 Dear This Old House,
I've always loved you.
The hours we've spent together on weekends make up some of my favorite memories. Especially on those cold, rainy mornings when we would curl up on the sofa with a warm mug of coffee. You were always so interesting, even surprising me with little gestures like putting your reruns on my TiVo. You're so cute that way.
Lately though, things have been… well, different. Babe, the passion is fading. You're becoming that girl: the one I sneak away on a Saturday afternoon to spend time with, while knowing in my heart that it might be time to part ways.
I'd like to think I've been understanding about sharing you: first Norm, then Tommy and a string of forgettable paint and tile guys. You know how I adore Richard – he's like family now – and I didn't even cry (much) when you unceremoniously dumped Steve and brought a new redheaded kid into the picture. I still think wistfully about Steve now and then, but I know his ship as sailed.
Seriously though honey, Roger? C'mon – the guy is so… so shlubby. We're better than that. I'm all for broadening our horizons, but if I wanted to hear a guy spend 10 minutes explaining how to lay sod, I'd go to Home Depot and ask.
Give the guy his own show – This Old Mulch or something – and let's get focus on what we do best: fixing houses.
Now before you get all excited, you need to understand I don't mean that 50's split-level suburban nonsense you've been wasting my time with lately. I want our spark back. We used to go fantastic places! Remember when we wouldn't think twice about converting a San Francisco church into a home? Sigh… I do, and it feels like a million years ago.
That lofted barn in Carlisle that you sold at the end of the season a few years ago – that was brilliant television. The nerdy bachelor professor in the mid-century modern makeover in Cambridge was charming. And the carriage house you turned into a home for the elderly woman in her daughter's backyard? WELL. The way you had the old husband pass away just before the last episode aired… that was so touching. I know there wasn't a dry eye in this old house.
Look, I've accepted the fact we'll probably never get back to our days at Manchester-by-the-Sea, in 2002. That was Steve's final project, and your shining moment; uncovering the 70's vinyl siding and casement windows from the century-old shingle masterpiece, adding an inlaid hardwood compass rose in the floor. From Norm's custom bookcase in the music conservatory to the new dormers – even that refined homeowner with the half british accent – was perfection. I've never loved you more.
So no. We'll never have Manchester again, perhaps. Certainly not until you quit "honoring the recession" or whatever you're doing by working on PVC-encrusted messes in dangerous neighborhoods. I love Habitat for Humanity as much as the next guy, but I'd rather stick a hot pencil in my eye than watch another minute of that Roxbury rehab last year. Somehow you managed to take a train wreck of a house… and wind up with something worse.
I'm sorry hon. Just being honest. Between that and seeing Norm in pink Bermuda shorts for an entire season, I've almost lost that loving feeling.
Maybe you're distracted by that ridiculous Ask This Old House, where the only thing I learn each week is that most homeowners are incapable of delivering a convincing line of dialogue. And those "What is it?" comedy routines? Darling, why would you disgrace yourself like that, pretending you don't recognize a hose connector? It's so sad.
We got together because we wanted to have fun, babe – maybe learn somethin' along the way. It was the custom staircases, converted barns and peek-a-boo views of the Pacific that kept us together. Your substance comes from your style, not the other way around – and you just can't be everything to everyone. I wish you'd just be you.
So… what do you say? How about next Saturday we take a little trip. We'll leave these drab suburbs, find some rambling old farmhouse, and fix it up together – just like the old days.
Just don't tell Roger where we're going this time.