Archive for December, 2006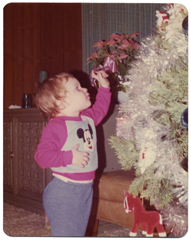 Let's see…
Let's back up a bit, make sure everything's even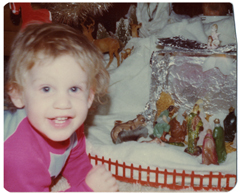 ..and that's it! Merry Christmas!
If the weather continues to cooperate, we'll be headed for California tonight to close out the year with my side of the family and some close friends. So to all of you who've been following my silly, irrelevant musings over the past year and a half, thanks for your interest. I'm grateful to count you as a friend.
I have a quick post for Christmas Day, but other than that we'll be far too busy – enjoying our time with the fam, the warm weather, and a long drive up the 101 from Los Angeles to Portland – to bother keeping up here.
So have a wonderful, safe holiday, a happy New Year's, and I'll see you all soon.
The following is a little story Melissa loves to tell once in a while when we're out with friends. I cringe a bit each time, knowing she'll invariably toss it to me halfway though. And though it always ends with everyone laughing, the laughter seems somehow tempered with a secret pity for Melissa, simply for having to put up with me. Perhaps that's why she likes to tell it; it's a simple parable on how embarassing life with me really is, sometimes.
It goes something like this…
Occasionally in the morning I'll roll out of bed five minutes before Melissa leaves for work – about the time her hairdryer whirs to life. In that time I'm usually circumspect enough to fry her up an egg white omlette or locate a high heel shoe that's gone AWOL, which happens so often you wonder if the shoes are secretly plotting against us. If the weather is bad or Melis is behind schedule, I'll throw on some sweats and drive her to the train.
It was one of these "running late" mornings a couple years ago, when I was tapped for chauffeur duty. As I'd be working from home that day, I grabbed anything resembling clothing and threw it on, figuring I'd be right back.
"sweatpants that look as if they were made from Oscar the Grouch pelts."
What resulted was a lovely ensemble. Thick wool socks. Old polarfleece sweatpants that look as if they were made from Oscar the Grouch pelts. And layers of mismatched, flannel shirts. I'd been working on freelance assignments at home for weeks and hadn't shaved. I needed a haircut, and having just woken up it was pointing every which way – full scale bed head.
Completing my ensemble with sandals over white socks, I drove Melissa – who invariably looks beautifully put together – to the station. Kiss goodbye. Watch her get on the train. Start back home. Halfway back to the house I thought, "Mmm… I could go for a mocha."
Pulling up to one of the ten Starbucks in a three-mile radius of our house, I patted my pockets. No wallet. Rifling through the ashtray, I gathered a handful of coins. I stumbled inside, past a herd of Bugaboo strollers.
When it was my turn, I gave the barista a sleepy grin, ordered my drink, and then – as nonchalantly as possible – emptied the contents of my pocket onto the counter. A pile of pennies, dimes, some lint and a crumpled gum wrapper. The woman behind the counter smiled, waiting patiently as I counted out three bucks in mostly nickels. I was at least 30 cents short.
"Sorry, lemmie run outside," I mumbled in my gravely morning voice. "I'll get s'more."
"No no, this is fine." she said softly. Her head tilted a little to one side, as if she was speaking to a puppy.
"Are you sure? Well, erm.. thanks." I shrugged, a bit embarassed but happy to put an end to the matter.
As I turned to walk to the pickup counter she locked eyes with me. I sensed a mixture deep sincerity, and something else. A little fear.
"Keep your chin up." She said quietly, nodding slowly and repeating, "Keep your chin up."
I kind of half smiled, confused. I don't think anybody had ever said that to me before, and certainly not twice in a row as if to punctuate the point.
A few minutes later in front of the house, it all hit me with searing clarity. Unbuckling my shoulder belt, I looked up and caught a glimpse of myself in the rear view mirror.
The wrinkled shirts. The wild hair and unkempt beard. The pillow crease across my cheek. An echo of my own voice replayed in my head, "Wait here, lemmie get more change." to the sound of nickels bouncing across formica.
"a freakish, mocha-drinking homeless guy."
She thought I was going outside to beg! That's how awful I looked… so bad that I'd been mistaken for a freakish, mocha-drinking homeless guy – with an apparently drooping chin, no less.
Back in the present, everybody gets a big laugh and we continue dinner. And I don't mind the story as much when I'm wearing jeans and a nice shirt as it's being retold. But in real life, I learned a valuable lesson that morning. Sure, I still throw on any old clothes I can find in the mornings. And I probably still look like I just crawled out of a bomb shelter. The difference is now I always make sure my wallet is with me.
You know – to prove that things haven't gotten that bad.