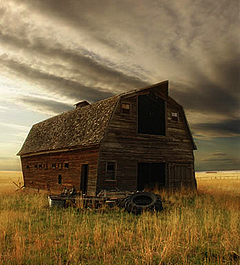 Melissa and I are heading to Oregon on Friday – mostly for a visit with our friends Sasha and Laura. But lest we get too carried away with the Cranium and the inside jokes, we also must remember that we're on a reconnaissance mission, too.
For about a year and a half now we've been tossing around the idea that someday we'd like to buy several acres of secluded, hilly property. It'd have mature, wide oaks to provide shade and where most people want expansive lawns, we'd have fields of native prairie grasses and wildflowers. Soon thereafter, we'd open something similar to a bed & breakfast.
But far from being your typical, Dude-there's-a-stranger-in-my-guest-room affair, we're thinking more along the lines of a series of cabins or cottages dotted around the property, providing a sensation of privacy and independence. A large 30 by 60 foot main barn – complete with cupola – would provide wonderful, natural light in the studio spaces. Our creative guests could come and spend a day… or a couple weeks, creating works in a peaceful, inspiring setting.
And in any way possible, we'd be off the grid – using solar and wind power (instead of power lines and underground water mains) to help make as light of a footprint on the land as we can.
My imagined farm is a compound: a collection of rescued, converted, rural structures that comprises living spaces, the great hall, and studios. Our Airstream sits prominently near the old, main barn – the shiny aluminum skin creating a fantastic contrast to the bleached out, weathered brown planks.
Regardless of whether or not this dream ever becomes a reality, we'll come back with lots of photos and stories from our trip.