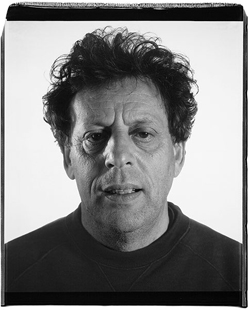 I've known for years, in an abstract sense, who Philip Glass is. That abstraction appropriately mirrors his work which is loved by many… and to others is insufferable noise. I remember as a teen hearing one of his pieces played at Ravinia – it sounded discordant, jarring and ugly. A single note held for minutes at a time? "What a waste of talent," I thought, "if he has any in the first place."
Then a few weeks ago, as I was listening to the radio while washing dishes, a stark piano etude came on. It immediately reminded me of the soundtrack to one of my favorite films of all time: The Illusionist. The piece ended, and I instinctively spoke the name of the composer in perfect time with the radio announcer. Philip Glass.
So last night I downloaded Etudes for Piano: Vol. 1, Nos. 1-10 and am now listening to it while painting this magazine cover. I'm extremely impressed with it: austere, slightly imperfect, somber, mathematical in its repetition, melodic and haunting. Glad I gave him a second chance.