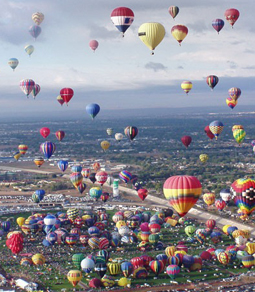 A while back I mentioned that we had a special trip planned for October.
Well October is nearly upon us… so I'll spill the beans. Melissa, Nell and I are getting excited about our first outing in the Airstream and we're heading to New Mexico.
It started in July as we were trying to figure out when we could next visit with my parents. They were thinking about driving all the way to Chicago when I remembered a post on the Airstream web forums about the annual hot air balloon festival and Airstream rally in New Mexico.
It sounded perfect; 15 hours from my parents, and 20 hours from us. We'd meet in the middle, and Nell could finally meet her grandparents for the first time.
The only thing we needed was a little… no, make that a lot, of luck. All the available spots with the Airstream group had been filled for months by the time we hatched this plan. And finding a hotel room for Mom and Dad in Albuquerque during the festival is just about impossible since everything within 20 miles fills up the day after the show ends each year.
Somehow though, this was just supposed to work. I found a beautiful hotel room ten minutes from the fairgrounds, and when I inquired about squeezing our little 19-footer into the Airstream rally, we discovered another attendee had backed out the day before, opening up a spot for us.
So in just about a weeks time we'll be on the road. With the Jeep still in for repairs it's touch and go whether or not we'll be able to tow with our own vehicle – but with Melissa's mom's SUV as a backup, we're in good shape either way.