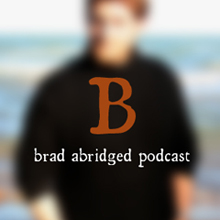 Where technology is concerned, there are a few types of people. You've got the geeks, salivating over how many gigawonks* their new hard drive has. On the other hand are the unwashed masses – showing off their iPod (with that air of phony nonchalance) as if nobody's ever seen one.
Then there's me: the Passive Enthusiast. Neither Geek nor Lemming, I'm the perfect dinner guest: all the informed, witty banter with none of the pompous windbag.
Anyhow, all of that is just my way of announcing that I'm going to begin podcasting some of my entries.
I often read my entries aloud before posting anyhow, as it gives me a better idea of pacing and the flow of ideas. Since I'm already sitting here, talking to nobody… I might as well hit the Record button, right?
So feel free to eavesdrop. If you enjoy this little experiment, the "Podcast" category tag will take you to other recordings, including some I'll be making of selected older posts.
Thanks for listening.
*Gigawonk® No idea what it means, but it's mine. Don't use it.
[...] Podcast North West wrote an interesting post today onHere's a quick excerptHear Me Out October 5th, 2007 by Brad Where technology is concerned, there are a few types of people. You've got the geeks, salivating over how many gigawonks* their new hard drive has. On the other hand are the unwashed masses – showing off their iPod (with that air of phony nonchalance Posted in Brad Abridged ( 48 links from 2 sites) [...]

Julia S.

Do you need one of them new-fangled "IPops" things to hear it?

Actually, I did have an "oh my gosh, I'm sooooo old" moments a couple years ago when I couldn't, for the life of me, figure out how to turn my IPod off.

Brad

Yeah, eliminating the "off button" is a very Generation Y kind of thing to do.

No, you'll be able to hear it right within the browser, and shouldn't even need a special plug-in or anything. It'll be interesting to see what kinds of little issues do show up, though.

"Hey kids, your dad is now internet-savvy! Say hello to iPop!"
Leave a Reply