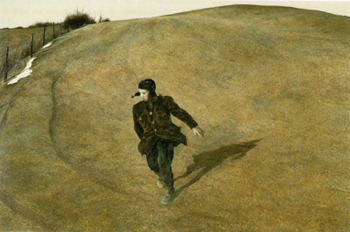 Andrew Wyeth's watercolor and egg tempera paintings, done primarily in and around Chadds Ford, Pennsylvania and along the rocky coastline of Maine, have been sources of great admiration for me since learning about him way back in seventh grade more than twenty years ago
Father of well known artist Jamie and son of the legendary illustrator N.C., Andrew was to me the artist most connected with his subject matter. He represented the most down to earth of the three, using a restrained, austere style of broad washes of muddy browns and grays. And yet Andrew was astonishingly adept at creating razor sharp detail through his use of negative space. Some of the most amazing aspects of his works are the spots left empty, which stand out in stark contrast to the pools of darkness around them. In his own words, it was "seeing a lot in nothing."
It was ironic that I read about his death this morning, as I've been thinking about him quite often over the last few months. I lamented the fact that there isn't a more in-depth documentary or biopic out there to celebrate this incredibly talented man with a rich, interesting life. I imagine he was a rather shy person, and seemed to never leave the simple, rural life behind.
While the affection of millions came rather easily and early to Andrew – since the age of twenty when he exhibited his first show – he had a much more tenuous and strained relationship with art critics. Wyeth seems to have been the kind of person who, given the choice, would always have preferred a long walk in the woods… over a drink in some exclusive restaurant in Manhattan.
I don't know a great deal about Wyeth personally, but still – I'm feeling a sense of loss today. The world has lost a unique artistic voice.
Leave a Reply