11:57 pm. The last walk of the night.
Slipping on patches of ice in the dark as I scanned for land mines (because what dog will take care of business in knee-deep slush?) I finished pushing and dragging the girls around three blocks. We're still practicing our new choreography, but for now it's still an awkward tangle of leashes; wrapped around my legs, threaded under their tummies, caught on the edges of each other's winter coat… and occasionally looped around one of their necks. All as I carry two small, toxic plastic bags that threaten to biodegrade before I ever make it to the dumpster.
Nell, slow down – you're choking your sister. Nina, go potty. NO, not THERE!
As I asked myself for the tenth time today how it was that Melissa brought home the dog – but I was the one walking it, we arrived at the back steps.
Up up, Nell. I unhooked the grosgrain leash and she dutifully plodded up the three flights to our back door.
Yawning, I leaned over and put Nina's paw on the first step as I've done dozens of times. Using my thigh I scooped up her back end – like the cow-catcher on an old steam engine – until she puts her back feet up. As she falls forward her front legs clumsily stomp onto the next step. She essentially falls up the stairs.
But tonight was different. As we reached the first landing, something happened. The moment we've been waiting to arrive for nine days.
Nina turned and gave me a sad look that seemed to say, "I'm not enjoying this butt-scooping any more than you are." She looked at her feet, looked up at the eight stairs in front of her… and walked right up. A single, beautiful motion.
Half stunned, half laughing I ran up and smothered her wide velvet head with kisses. And although the next three flights required a little scooting from me on the first few steps, she finished every run under her own power and when we arrived at the bottom of the last eight steps she again danced right up without any hesitation. She then turned and looked down at me, heaving a big sigh. I smiled.
Good up up, Nina.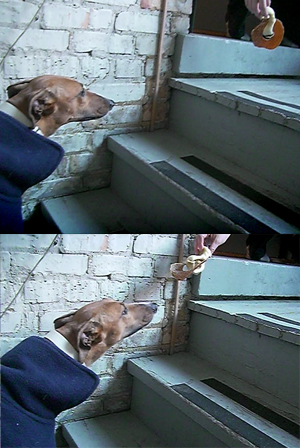 A previous, unsuccessful attempt using bribery.
Dog Ramps

It seems you had a very good experience with you.I enjoyed well while reading.Thanks!

Julia S.

Good girl Nina!

Nancy

Bless her pointed little head! Congrats!

anonymom and anonydad and anonydogs

And bless your rounded bigger head! Congrats to you BOTH– you, for not giving up and complaining to Melissa (who certainly must have her own little share of buyer's remorse) and congrats to NINA for trying and trying until she got it! You will be rewarded with warmer days to come.
With each moment the four of you will continue to go up, up, and up because that is the way you all are made. We love you four!!!
Anonyfamily

Brad

Personally I don't care what any of you think… except my new friend Dog Ramps.

He "enjoyed well", which is more than I can say for all of you. He even included a handy link in his name so I could buy his $200 dog ramp. Why can't you guys be more like DR?

Nancy

So, explain to me how a dog ramp would help in this situation? Wouldn't you have to move it up the staircase at each landing? I think little Nina would be easier to carry up those stairs than a dog ramp. Just curious.

Brad

True – I clicked the link and they look like a folding leg from the Mars lander.

Guess I should just be glad it wasn't another link for cheap Viagra.
Leave a Reply