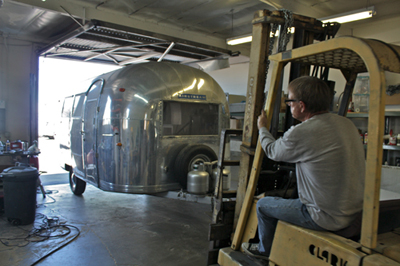 Moving a 1963 Globe Trotter out to make room for our '62.


Well lookie here… a blog post about us!
Yes, it's just one big circle of links that lead you right back here eventually, but nevertheless a nice mention by Uwe Salwender (pronounced Oo-Veh if you want to say it almost correctly). He's head honcho of Area 63 Productions in Orange, California… and what a place it is.
The first thing you may notice in the 14-foot high garage – located in the flat, industrial maze of buildings that make up this industrial stretch of Orange – are the walls. They're lined with deep shelves, piled high with old sheet metal, aluminum extrusions and cast parts from trailers dating back 50 years or more. Long discontinued fan shrouds are hidden under old vent caps, tucked behind dusty pressure pumps which are next to a rare neck valve that simply can't be found anymore. Electric nippers, rivet shavers, and impact wrenches lie on long workbenches, behind which a peg board holds hundreds of tiny plugs, solenoids and wires. It's elegantly disheveled, organized as best you can when you're dealing with everything from rivets to 10-square foot sheets of vacuum formed aluminum.
But Uwe knows where every last item is located, especially the wide variety of tools and supplies which allow him to jump effortlessly between the disciplines of aircraft construction, plumbing, woodworking, HVAC, automotive and electrical work; usually in a single project.
But if you're drooling over the creative potential embodied in all those supplies and rare parts, you're soon distracted by the results of the work itself. In no time I was scootching along on my back to get a better look at the installation of a new axle underneath an early 60's Caravel… and a few minutes later examining the new, custom birch cabinetry in a polished, 1950's Flying Cloud. Forget trailer travel: these restorations let you time travel.
I came in wowed by Area 63's workspace, but left even more taken by Uwe's attention to detail and knowledge of these trailers. Vintage Airstreams may be worked on and updated often in backyards all over the country, but rarely with such fine results.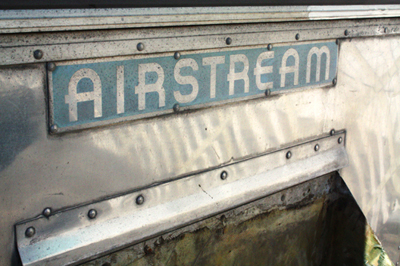 1950's predecessor to our nameplate featured a wonderful, deco-inspired typeface.
Here's the link to my Flickr set showing some of Uwe's work for us back in September.
Leave a Reply